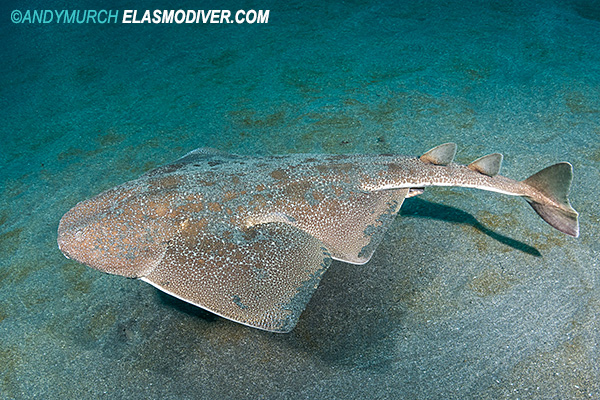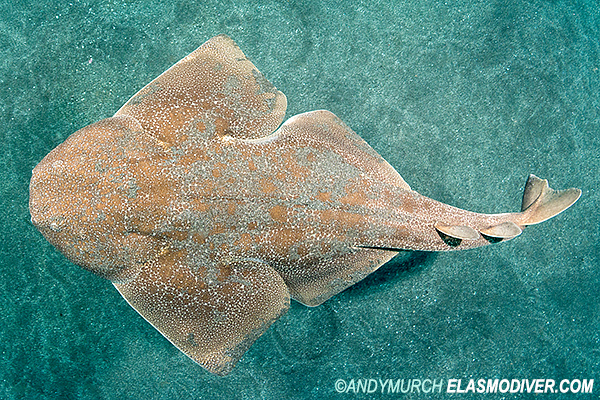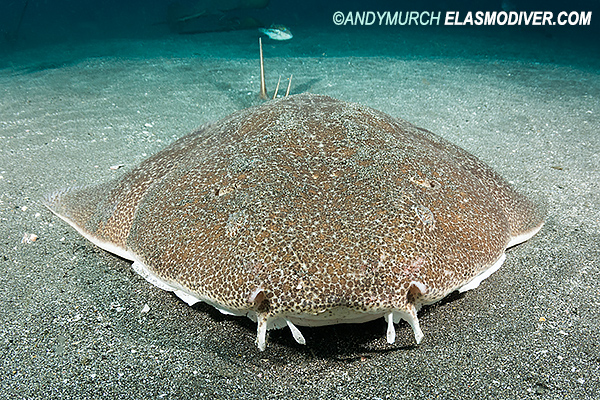 Photographs copyright Andy Murch. All rights reserved.
View all available Japanese Angel Shark Pictures in the Shark Picture Database
Common Names: Japanese Angel Shark, Japanese Angelshark.
Scientific Name: Squatina japonica
Family: Squatinidae
Identification:
Dorsum covered in reddish brown irregular spots and blotches on a cream or light grey background. Blotches larger closer to centerline of back, smaller around the fin margins and head. No dark ocelli (eye spots) on pectoral fins. Small double line of enlarged denticles (thorns) running along centerline of back and tail. More thorns between fin bases and above eyes. Ventrum white.
Eyes large. Distance between eye and spracle about 1.5x eye size. Area between eyes concave. Terminal mouth with simple spatulate barbells and one pair of unfringed or weakly fringed nasal skin flaps.
Size: At birth 30cm. Maximum recorded size 200cm.
Habitat:
Found on sandy substrates down to 300m. Sometimes adjacent to rocky reefs.
Abundance and distribution:
Uncommon. Endemic to the northwest Pacific: Sea of Japan, south coast of Japan, Yellow Sea, East China Sea, northern Taiwan and the Taiwan Strait.
Diet:
Poorly known.
Reproduction:
Ovoviviparous with no yolk sac placenta. Litter size up to 10.
Conservation Status: VULNERABLE.
According to the IUCN, the Japanese angelshark is caught as bycatch in fisheries, which operate down to 300m, and in particularly large numbers in demersal trawl fisheries. It is not known to be targeted, but is a retained bycatch, with individuals recorded in local fish markets in northern Taiwan, Province of China and Japan, although this species, like other Northwest Pacific angel sharks, has frequently been misidentified. This species' generation period may be between 8-15 years, based on biological information from better known angel sharks. Other angel shark populations (for example Squatina squatina and Squatina guggenheim) have proved particularly vulnerable to trawl and gillnet fishing gear, resulting in significant population depletion because of their low reproductive potential and low potential for re-colonisation. Where population data are available for other angel sharks, declines greater than 80% have been observed in less than three generations within areas where target or bycatch fisheries take place. Although trend data are not available for Japanese Angelshark, there is concern that it has already declined significantly as a result of fisheries, which possibly operate throughout its range. Based on current knowledge of fishing pressure in this region, these trends are likely to continue. This species, however, has a fairly wide geographic and bathymetric range, which may offer some areas of refuge from fisheries. It is therefore assessed as Vulnerable A2d+A4d, based on suspected declines approaching 50%, but it may prove to have been more seriously depleted than this. Further research into this species' abundance, distribution, life-history and population trends is urgently needed.
Photographs:
Tateyama, Chiba Prefecture, Japan.
Similar species:
The Japanese angle shark shares its range with at least 3 other angelshark species:
The Taiwan angelshark Squatina formosa is confined to Taiwan. It is yellow/brown with paired ocelli on is pectoral fins and simple short barbells.
The clouded angelshark Squatina nebulosa shares most of the Japanese angelshark's range. It is a more bluish-grey with many small black spots, scattered dark blotches and a large dark spot at the base of each pectoral fin.
The ocellated angelshark Squatina tergocellatoides is present from the South China Sea down to Malaysia. It has six pairs of large ocelli on its back and wide finely fringed short barbells.
Reaction to divers:
Remains completely motionless relying on camouflage. Reluctant to move even when a diver partially exposes it by fanning the sand away from its back.
Diving logistics:
This angelshark is difficult to find in the wild but it is occasionally seen by divers on the south side of Honshu Island around Izu and Chiba Peninsulas. Angelshark sightings are more common in the colder months.
References and citations:
Walsh, J.H. & Ebert, D.A. 2009. Squatina japonica. The IUCN Red List of Threatened Species. Version 2015.2. <www.iucnredlist.org>.
HOME LINKS TAXONOMY UNDER THREAT CONTACT