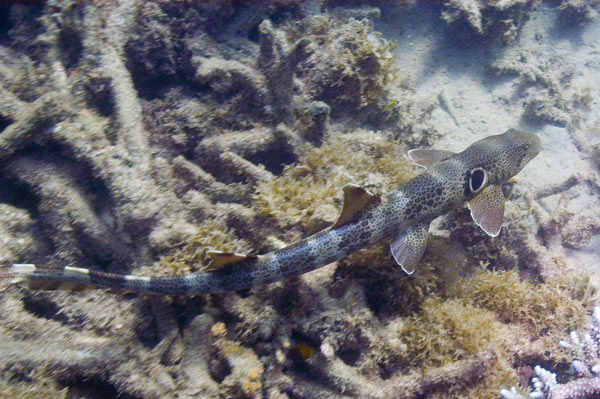 Photograph copyright Andy Murch all rights reserved.
View all available Speckled Epaulette Shark Pictures in the Shark Pictures Database
Common Names: Speckled epaulette shark, Speckled walking shark, Speckled carpet shark.
Binomial: Hemiscyllium trispeculare
Family: Hemiscylliidae
Identification: Long, cylindrical, eel-like body. Large ocelli ringed in white above pectoral fins. two to three large black spots forming crescent behind ocelli. Body banded with small spots (crazing) on a tan background.
Size: Maximum length 79cm.
Habitat: Shallow coral reefs and tide pools. From 1 to 20m.
Distribution: Northern Australia. Northern W.A. to Queensland. Possibly also north into Southern Indonesia.
Behavior: Hides by day under corals venturing out at sunset to feed. Swims or walks along on its flexible pectoral and pelvic fins.
Reproduction: Oviparous.
Conservation Status: Listed as èLeast Concernè by the IUCN. Collection for the aquarium trade and bycatch from fishing activities in Australian waters place only minimal pressure on this species. Capture as bycatch in fisheries is likely low given its coral reef habitat. Effects of exploitation in Indonesia are unknown, but this species might be affected by destructive fishing practices and habitat loss if it occurs there
Photographs: Bandiggi Beach, Exmouth, Australia.
Similar species:
Occelated epaulette shark (Hemiscyllium ocellatum) Has far fewer spots.
Reaction to divers: Remains motionless relying on camoflage until closely approached then swims under coral heads.
Diving logistics: In W.A., Exmouth beaches with fringing coral reefs have a healthy population of epaulette sharks that can be encountered while snorkelling.
References and further reading:
Heupel, M.R. 2015.
Hemiscyllium trispeculare
. The IUCN Red List of Threatened Species 2015: e.T41820A68625409.
http://dx.doi.org/10.2305/IUCN.UK.2015-4.RLTS.T41820A68625409.en
.
Downloaded on
26 May 2018
.