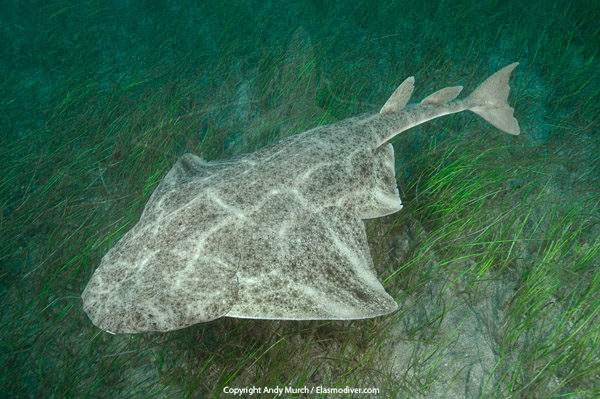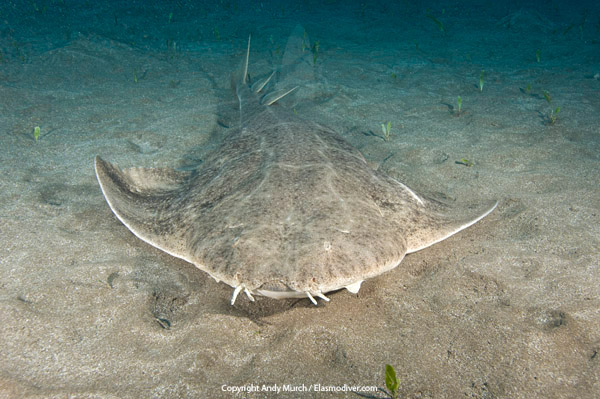 Photographs copyright Andy Murch. All rights reserved.
View all available Common Angel Shark Pictures in the Elasmodiver Shark Picture Database
Common Names: Common Angel Shark, Angel Shark, Angelshark.
Latin Name: Squatina squatina
Family: Squatinidae
Identification:
Light brown to grey flattened body with light lines that mimic ridges in the sand. Small dark spots cover most of dorsum. Spots combine in centre of pectoral fins to create dark bands. Terminal mouth with simple barbells and one pair of lightly fringed nasal skin flaps.
Size: At birth 24-30cm. At maturity 126-167cm. Maximum recorded size 183cm.
Habitat:
Found on sand or mud often around rocks. In estuaries, bays, and sometimes in sea grass beds. Depth range from inshore to at least 150m on the continental shelf.
Abundance and distribution:
North eastern Atlantic . Previously from Norway to Mauritania including the Black Sea and Mediterranean. Now locally extinct in some areas including the North Sea. Common Angel Sharks are still common around the Canary Islands.
They are seasonally migratory and disappear from most shallow areas in the summer months. Conversely, aggregations of up to 100 animals have been reported during summer in bays on the north side of Gran Canaria.
Diet:
Common Angel Sharks are ambush predators that lay in wait partially buried in the sand. Their diet includes flatfishes, skates, crustaceans and molluscs.
Behavior:
Angel sharks choose their resting sites based on their success at ambush hunting in a particular spot. Once selected they use their pectoral fins to dust away enough sand to create a depression that they can settle into. If hunting is good they will remain in the same spot for extended periods.
Reproduction:
Ovoviviparous with no yolk sac placenta. Recorded litter size from 7-25. Size of litter depends on size of female.
Conservation Status: Critically Endangered
The common angel shark (Squatina squatina) was formerly common throughout large areas of coastal and outer continental shelf seas in the Northeast Atlantic, Mediterranean and Black Seas. Most of this region is now subject to intense demersal fisheries, and the species is highly catchable from birth onwards and is taken as bycatch in demersal trawls, set nets and bottom longlines operating through most of its range and habitat. As a result of its slow life history characteristics and bycatch in fisheries with steadily increasing effort and capacity, its abundance has markedly declined during the past 50 years to the point where it has been declared locally extinct in the North Sea and is locally extinct from large areas of the northern Mediterranean Sea. It is now undetectable throughout most of the remainder of its range, with the exception of the Canary Islands where effective conservation measures are required urgently. Angelshark is therefore assessed as Critically Endangered under criteria A2bcd+3d on the basis of estimated and suspected past declines of at least 80% over three generations and the likelihood of continuing future declines resulting from fishing pressure.
Photographs:
El Cabron Marine Park, Arinaga, Gran Canaria, Canary Islands, Eastern Atlantic.
Similar species:
Two
other Angel Sharks share Common Angel Shark's southern range: The Sawback Angel Shark Squatina aculeata is found from the Mediterranean to Namibia. It has a distinctive row of thorns running along the centre line of its back. It is usually found in deeper water from 30 to 500m. The Smoothback Angel Shark Squatina oculata is also found from the med to southern Africa is spotted but has no lines and is rarely found above 50m.
Reaction to divers:
Remains completely motionless relying on camouflage. Reluctant to move even when a diver partially exposes it by fanning the sand away from its back. One account of a Common Angel Shark rising off the bottom and circling a diver with it's mouth open.
Diving logistics:
The best place to see Common Angel Sharks is in the Canary Islands. Sightings occur throughout the chain but it helps to dive with an operator that knows where to find them.
Davey Jones Dive Centre is situated in Arinaga on the south side of Gran Canaria. They organise shore diving trips to the El Cabron Marine Park which is just outside town. The park has an almost year round population of Angel Sharks and the guides from Davey Jones are very good at finding them under the sand.
More details available on the Canary Islands page in the Shark Diving Hotspots section.
Other colloquial and foreign names for Squatina squatina:
扁鯊 China Main Mandarin Chinese

扁鲨 China Main Mandarin Chinese

ﻦﻔﺳ Libya Arabic

Βιολί Greece Greek

ангел морской Russian Fed Russian

расшпиль Russian Fed Russian

Βιολόψαρο Greece Greek

Λύρα Greece Greek

Ρίνα Greece Greek

Άγγελος Greece Greek

Κούβακας Greece Greek

An bráthair Ireland Gaelic

Ange de mer France French

Angel fiddle fish UK English

Angel puffy fish UK English

Angel ray UK English

Angelfish USA English

Angelino Spain Spanish

Angelo Italy Italian

Angelo di mare Italy Italian

Angelos Greece Greek

Angelot France French

Angelote Spain Spanish

Angeo Italy Italian

Anghelosrina Greece Greek

Aniol morski a. raszpia Poland Polish

Anjo Portugal Portuguese

Anzolo Italy Italian

Baroaháfur Iceland Icelandic

Boudroie France French

Bourget peisange France French

Cacao-anjo Brazil Portuguese

Cação-anjo Brazil Portuguese

Cenericu Italy Italian

Engelhai Germany German

Escat Spain Spanish

Escat jueu UK English

Eskat común Spain Spanish

Europäischer Meerengel Germany German

Europæisk havengel Denmark Danish

Fiddle fish USA English

Gemeiner Meerengel Germany German

Guitarra Canary Is. Spanish

Havengel Denmark Danish

Havsängel Sweden Swedish

Kasuzame Japan Japanese

Keler Turkey Turkish

Keler balığı Turkey Turkish

Korozame Japan Japanese

Lekelikeler balığı Turkey Turkish

Lyra Greece Greek

Mak'akh Israel Hebrew

Mal'ah Israel Hebrew

Malâk El Bah'r Lebanon Arabic

Martrame France French

Meerengel Germany German

Mennejuela Spain Spanish

Merienkeli Finland Finnish

Monk Isle of Man English

Monkfish Ireland English

Pardón Spain Spanish

Peï-angi France French

Peje ángel Canary Is. Spanish

Peje-ángel Spain Spanish

Pesce angelo Italy Italian

Pesce squadro Italy Italian

Pesciu angiou Italy Italian

Pez ángel Spain Spanish

Pisci squadru Italy Italian

Polorejnok obecný Czech Rep Czech

Razopas Croatia Croatian

Rina Greece Greek

Sagrin Italy Italian

Sfen Libya Arabic

Sfinn Libya Arabic

Shekatli Egypt Arabic

Skadhine Albania Albanian

Skadhine e bute Albania Albanian

Sklat Croatia Croatian

Sklat SerbiaMontenegro Serbian Serbia

Squadre Italy Italian

Squadre 'e rena Italy Italian

Squadro Malta Italian

Squadru Italy Italian

Squadru lisciu Italy Italian

Squadru monicu Italy Italian

Squaena Italy Italian

Squalena Italy Italian

Vexigall Spain Spanish

Vióli Greece Greek

Xkatlu Malta Maltese

Xkatlu komuni Malta Maltese

Yevropeisky morskoi angel Former USSR Russian

Zabalera Spain Spanish

Zee-engel Netherlands Dutch
References and further reading:
Ferretti, F., Morey, G, Serena, F., Mancusi, C., Fowler, S.L., Dipper, F. & Ellis, J. 2015. Squatina squatina. The IUCN Red List of Threatened Species. Version 2015.2. <www.iucnredlist.org>
HOME LINKS TAXONOMY UNDER THREAT CONTACT