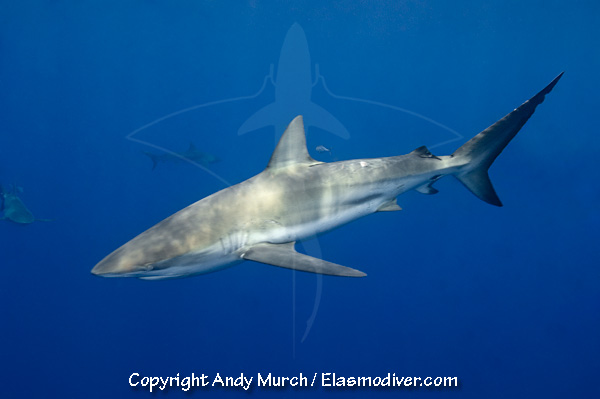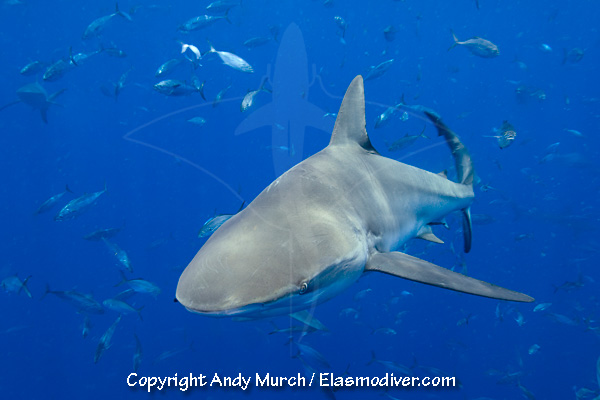 Photograph by Andy Murch
View all available Dusky Shark Pictures in the Shark Pictures Database
Common Name: Dusky Shark
Latin Name: Carcharhinus obscurus
Family: Carcharhinidae
Identification: Wide rounded snout with sharp leading edge. First dorsal fin originates behind pectoral axis. Dorsal pointed. Pectoral fins slightly sickle shaped dusky tips on underside. Low interdorsal ridge present. Low second dorsal and anal fin usually have dusky tips. Pectoral and pelvic fins can also have dusky tips. Well developed caudal fin with dusky trailing edge. Body fairly monochrome greyish brown above and pale below.
Size: Maximum length 4.2m. 70 to 100cm at birth.
Habitat: Usually found around continental coastlines. To 400m depth.
Abundance and distribution: Circumtropical.
Behavior: Feeds actively during the day. Diet includes: Bony fishes, other sharks and rays, and some crustaceans and moluscs.
Reproduction: Viviparous. Litter size 3 - 14. Uses shallow water regions for nursery grounds.
Observations:
After baiting Dusky Sharks in an area for one afternoon the boat returned to port. The next day the same easily recognizable Dusky Sharks were able to find the boat and join the feed within a few minutes even though it had relocated to another sea mount.
Photographs: Louisiana, USA.
Similar species:
Galapagos shark (Carcharhinus galapagensis) First dorsal originates over pectoral axis. Prefers offshore islands and sea mounts.
Reaction to divers: In baited situations Duskies can become very aggressive. While snorkelling near the bait I observed them trying to bite my fins whenever my kicking speed increased. They are easily excited and their large size makes them potentially very dangerous. However, outside of baited situations it is very difficult to find Duskies while diving. Dusky sharks have been known to repeatedly attack swimmers.
Diving logistics: Al Walker runs the only Dusky Shark interaction that I am aware of. He has a good record of chumming up large numbers of Duskies on demand at the offshore rigs and seamounts near Venice, Louisiana. Al runs private charters for highly experienced divers only. On my last trip to Venice he was able to attract approximately 60 Dusky Sharks in the 6 to 10ft range.
Other diving locations submitted by readers:
Further reading:
Reef Sharks and Rays of the World. Scott W. Michael. Sea Challengers.
Sharks and Rays - Elasmobranch Guide of the World. Ralf M. Hennemann. IKAN.
HOME LINKS TAXONOMY UNDER THREAT BOOKS CONTACT