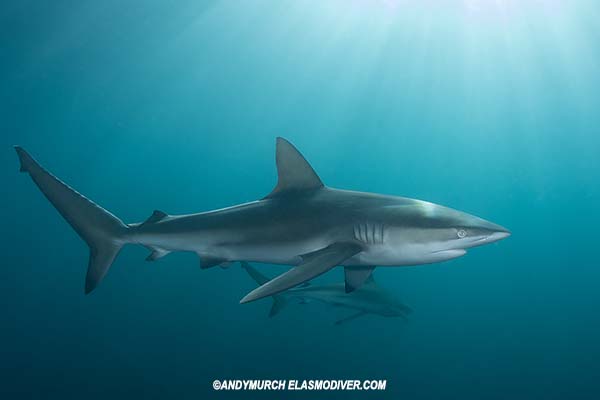 Photograph by Andy Murch
View all available Dusky Shark Pictures in the Shark Pictures Database
Common Name: Dusky Shark.
Accepted Binomial: Carcharhinus obscurus.
Synonyms: Carcharhinus obscurella, Carcharias macrurus, Eulamia obscura, Galeolamna eblis, Galeolamna greyi, Galeolamna macrurus, Prionodon obvelatus, Squalus obscurus.
Family: Carcharhinidae.
Identification: Wide rounded snout with sharp leading edge. First dorsal fin originates behind pectoral axis. Dorsal pointed. Pectoral fins slightly sickle shaped dusky tips on underside. Low interdorsal ridge present. Low second dorsal and anal fin usually have dusky tips. Pectoral and pelvic fins can also have dusky tips. Well developed caudal fin with dusky trailing edge. Body fairly monochrome greyish brown above and pale below.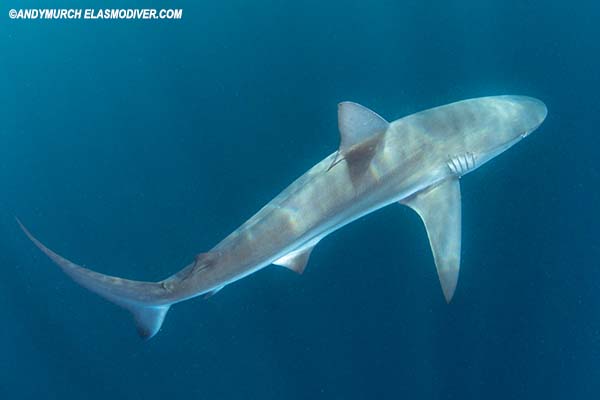 Size: Maximum length 4.2m. 70 to 100cm at birth.
Habitat: Usually found around continental coastlines. To 400m depth.
Distribution: Circumtropical on continental shelves.
Behavior: Feeds actively during the day. Diet includes: Bony fishes, other sharks and rays, and some crustaceans and mollusks.
Reproduction: Viviparous. Litter size 3 - 14. Uses shallow water regions for nursery grounds.
Conservation Status: Listed as VULNERABLE by the IUCN. Dusky sharks are taken as both bycatch and target in commercial shark fisheries using, set nets, longlines, hook and line and trawls (Cramer 1995, Compagno in prep.) in many areas of its range. The species has among the most sought after fins for shark fin soup because of their large size and high fin needle content (ceratotrichia) (TRAFFIC 1996, R. Hudson pers. comm.). Because of its high-value fin, dusky sharks caught incidentally in tuna and swordfish fisheries are now regularly landed rather than released. Carcharhinus obscurus was found to represent at least 1.2-1.7% of the fins auctioned in Hong Kong, the world's largest shark fin trading center (Clarke et al. 2006a). It is estimated that between 144,000 and 767,000 Dusky Sharks are represented in the shark fin trade each year or, in biomass, 6,000 to 30,000 mt (Clarke et al. 2006b). The very low intrinsic rate of increase of the Dusky Shark renders this species among the most vulnerable of all vertebrates (including great whales and sea turtles) to man-induced mortality (Compagno et al. 2005, Musick 1999). Furthermore, Compagno et al. (2005) report that the species is difficult to manage or protect because it is taken in mixed species fisheries, and has a high mortality rate when taken as bycatch.
Further threats to C. obscurus are from beach meshing programs in Australia and South Africa and from recreational fishing. Beach meshing in Australia (Queensland and News South Wales) undoubtedly catches C. obscurus, however, species-specific data are not available. Between 1972 and 1990, the New South Wales program caught a total of 765 whaler sharks (Reid and Krough 1992), of which Stevens (1984) reported the capture of larger juvenile and adult C. obscurus by recreational fishers off the east coast of Australia.
Dusky sharks were one of the most important species in the trophy shark tournaments held in Florida, USA, until the stock collapsed (Heuter 1994).
Observations:
After baiting Dusky Sharks in an area for one afternoon the boat returned to port. The next day the same easily recognizable Dusky Sharks were able to find the boat and join the feed within a few minutes even though it had relocated to another sea mount.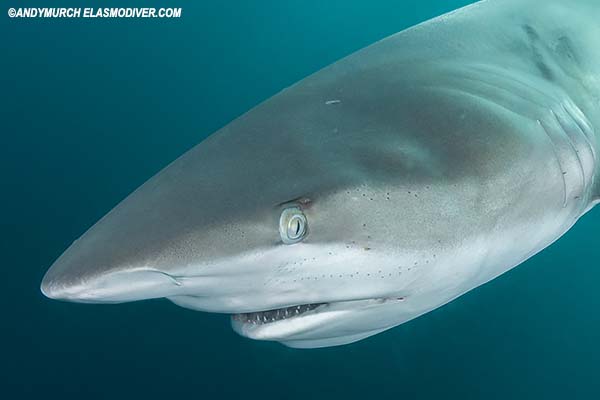 Photographs: Port Saint Johns, Wild Coast, South Africa. Taken during the annual Sardine Run.

Similar species:

Galapagos shark Carcharhinus galapagensis - First dorsal originates over pectoral axis.

Galapagos sharks p

refer offshore islands and sea mounts.

Bronze whaler shark Carcharhinus brachyurus - no interdorsal ridge. Silky shark Carcharhinus falciformis snout more pointed. Lower and more rounded first dorsal. Slightly longer pectoral fins. Younger specimens have an obvious silvery sheen but this may fade in older animals.

Reaction to divers: In baited situations Duskies can become very aggressive. While snorkelling near the bait I observed them trying to bite my fins whenever my kicking speed increased. They are easily excited and their large size makes them potentially very dangerous. However, outside of baited situations it is very difficult to find Duskies while diving. Dusky sharks have been known to repeatedly attack swimmers.

Diving logistics: Dusky sharks regularly show up to feed on bait balls during the annual 'Sardine Run' in South Africa. Big Fish Expeditions runs Sardine Run Shark Diving Trips during which they also chum for sharks. Duskies are one of the main species that show up during the chumming sessions.

Citations:

Musick, J.A., Grubbs, R.D., Baum, J. & Cortés, E. 2009.

Carcharhinus obscurus

. The IUCN Red List of Threatened Species 2009: e.T3852A10127245.

http://dx.doi.org/10.2305/IUCN.UK.2009-2.RLTS.T3852A10127245.en.

Downloaded on

31 December 2017

.

HOME LINKS TAXONOMY UNDER THREAT BOOKS CONTACT