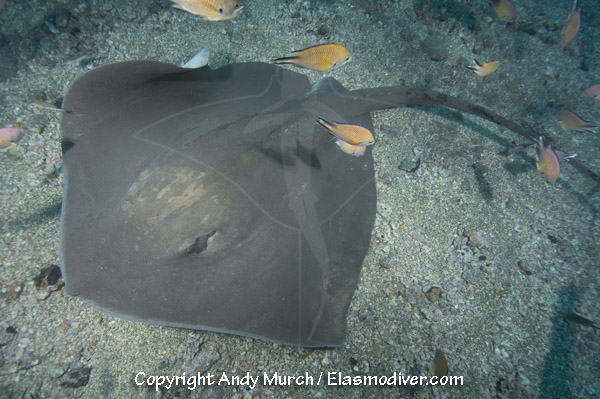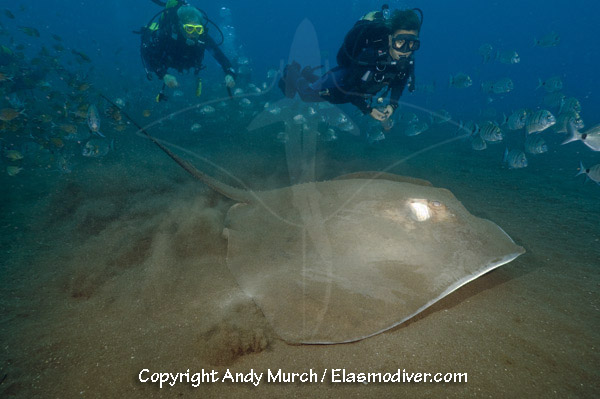 Photograph copyright Andy Murch
View all available Roughtail Stingray Pictures in the Shark Pictures Database
Common English Names:
Roughtail stingray, Roughtail ray, Rough-tailed stingray, Rough-tailed northern stingray.

Latin Name: Dasyatis centroura

Family: Dasyatidae

Identification: Rhomboid disc with rounded pectoral tips and straight leading edges. Thorns scattered on midline of back and prominent thorns along midline and sides of tail. Tail approx twice body length with deep ventral finfold. Dorsum grey/brown to olive brown. Ventrum pale.

Size: Maximum disc width 210cm. Usually 100 to 130cm. At birth 35cm.

Habitat: Sand and mud bottoms from intertidal to 270m. Inhabits coastal areas, estuaries, and rivers.

Abundance and distribution: Eastern Atlantic - Bay of Biscay to Angola and Madeira and Canary Islands. Also entire Mediterranean. Western Atlantic - Georges Bank to Florida, Gulf of Mexico, and Uruguay to Southern Brazil. Subtropical; 45°N - 35°S, 90°W - 36°E

Behavior: Preys on teleost and cartilaginous fishes, crustaceans, and cephalopods.

Reproduction: Ovoviviparous. Gestation about 4 months. Litter size 2 - 4. Breeds anually.

Observations: I have only seen one specimen in North American waters. This ray is definitely observed more commonly in its Eastern Atlantic range.

Photographs: Los Gigantes, Tenerife, Canary Islands, North West Africa.

Similar species: In the western Atlantic: Southern stingray, Bluntnose stingray. In the eastern Atlantic: Black Stingray. Black stingray grows to similar size but lacks the thorns along the tail.

Reaction to divers: May be approached with non threatening movements.

Diving logistics: Los Gigantes on Tenerife is the place to encounter this species. Los Gigantes Dive Centre runs feeds twice weekly that attract up to six species of rays usually including this one.

Difficult to encounter in North American waters. May be more commonly sighted on the Carolina wrecks than in Florida. Reports of sightings of this stingray are welcome.

Other diving locations submitted by readers:

Tim Costikyan wrote:

I spotted two of these(roughtail Stingrays) off Zachs Beach in
Marthas Vinyard in about 8' of water (july 24 2006).

Other names: 粗尾魟 China Main Chinese, 粗尾魟 China Main Mandarin Chinese, Τρυγόνα Greece Greek, Μούντριζα Greece Greek, Μούτρουβα Greece Greek, Ακανθοτρυγόνα Greece Greek, Akanthotrygona Greece Greek, Brazil Portuguese, Arraia-prego Brazil Portuguese, Boll Malta Maltese, Boll denbu ahrax Malta Maltese, Denizkedisi balığı Turkey Turkish, Escurçana clavellada Spain Catalan, Essan Benin Fon GBE, Gestekelde pijlstaartrog Netherlands Dutch, İğnelivatoz balığı Turkey Turkish, Neshtelie Albania Albanian, Ogończa zachodnia Poland Polish, Ozouin Benin Fon GBE, Pastenague à queue épineuse France French, Pastenague des îles France French FAO old Pastenague épineuse France French, Pohjankeihäsrausku Finland Finnish, Raia-manteiga Brazil Portuguese, Raia-prego Brazil Portuguese, Ratão Azores Is. Portuguese, Raya látigo lija Spain Spanish, Rayalátigo isleña Spain Spanish FAO, old Rina balığı Turkey Turkish, Ruhalet pigrokke Denmark Danish, Ruhalet Pilrokke Denmark Danish, Σαλάχι Greece Greek, Stechrochen Germany German, Taggspjutrocka Sweden Swedish, Tratra Benin Pila, Trigone Malta Italian, Trigone spinoso Italy Italian, Trnucha hruboocasá Czech Rep Czech, Uge de cardas Portugal Portuguese, Uge-de-cardas Portugal Portuguese, Uja Cape Verde Creole, Uje-de-cardas Cape Verde Portuguese.

References:
Fishbase.com
Scott W Michael - Reef Sharks and Rays of the World.