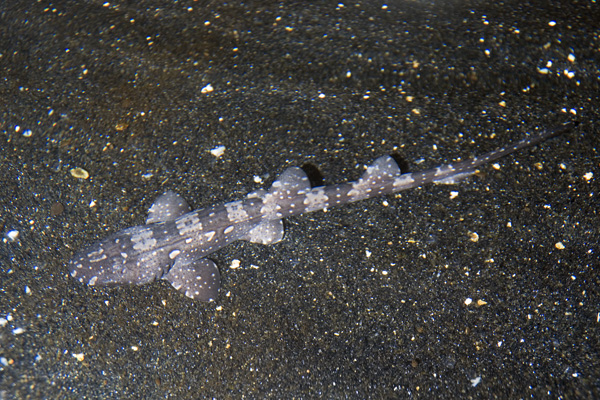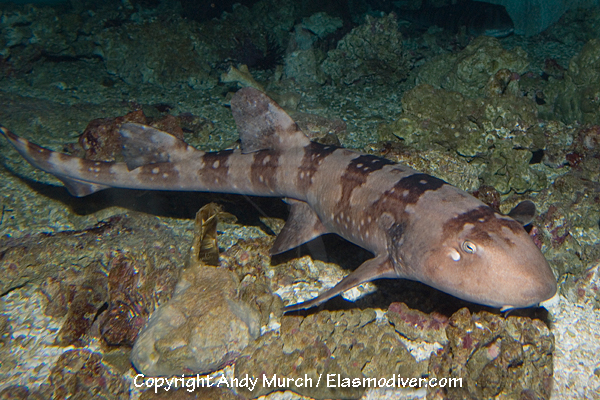 Photograph copyright Andy Murch all rights reserved.
View more Whitespotted Bamboo Shark images in the Shark Pictures Database
Common Names: Whitespotted Bamboo Shark or Bambooshark
Latin Name: Chiloscyllium plagiosum
Family: Hemiscyllidae
Identification: Elongated grey brown body with many dark saddles. Saddles have light spots. Anal fin set far back on long thick tail. Scalloping or lateral ridges on trunk.
Size: Maximum length 95cm. 9-12cm at birth.
Habitat: Coral reefs - a secretive reef dweller.
Abundance and distribution: Indo Pacific. Madagascar, India, and South East Asia as far south as Java. East to Japan.
Behavior: Nocturnal. Hides by day in crevices. Hunts for bony fishes and crustaceans.
Reproduction: Oviparous.
Similar species:
The whitespotted bamboo shark shares its range with a number of other bamboo sharks al of which are easily recognizable by their patterns.
Reaction to divers: unknown
Diving logistics: please send sighting information to elasmodiver.
Other diving locations submitted by readers:
References and further reading:
Sharks of the World. Leonard Compagno et al.
HOME LINKS TAXONOMY UNDER THREAT BOOKS CONTACT